G-Sync vs FreeSync: Battle between the Giants
When buying a new monitor, you may have come across a part of the monitor's description that specifies the screen technology that the monitor has implemented, coming in either G-Sync or FreeSync. But how do these two compare and what is the overall function of these technologies? Here is an article that examines G-Sync and FreeSync from top to bottom: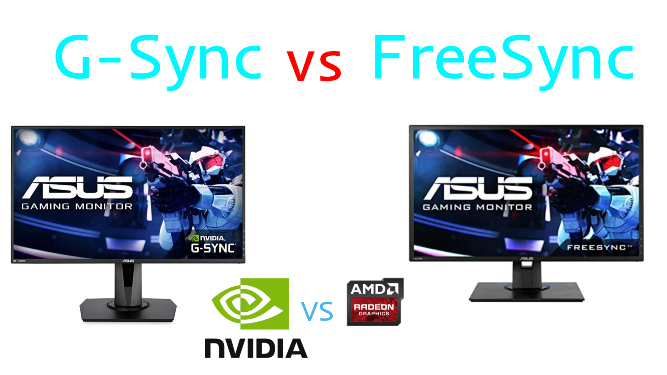 What's the difference between the two?
The main difference between the two is that FreeSync is a screen technology developed by the AMD company, while G-Sync is developed by Nvidia. In a way, it's the same technology but designed for different video cards. Meaning that if you have a graphics card that utilizes a graphics chipset developed by AMD, you would presumably want to buy a monitor with FreeSync technology and a G-Sync monitor if you have a graphics card coming from Nvidia. To avoid any compatibility issues that might arise, you should go with the screen technology that corresponds with your graphics card.
If you already have the monitor and it does not match your graphics card, don't worry too much. As of January of 2020, some discussions in forums say that Nvidia hardware users can, indeed, use FreeSync. As of AMD, nothing much has changed in making things compatible with G-Sync. In the worst-case scenario, these technologies are just extras that are not necessary to have pleasant gaming experience.
How to know which one to use?
As already mentioned above, the screen technology depends on what graphics card you have. To check what graphics card you have, simply click on the search button on the lower left side of windows 10, write msinfo into the field, and once the application has opened up, click on components, then display and on the item line called name will be your graphics card. (Search msinfo>click components >display>look at the name line)
After you got the name of your graphics card, basic naming guidelines are that Nvidia's cards start with GT, GTX, and RTX, while AMD's cards start with R7, R9, and RX. If your graphics card doesn't fall under any of those, simply google the name of the card, and you will easily tell which one it is from the information given.
It is also important to note that some computers don't have dedicated GPUs. Instead, they have integrated graphics such as Intel's graphics and AMD's APU Vega graphics. These integrated graphics were not created for heavy gaming and therefore, will perform quite poorly in modern titles.
Nvidia's G-Sync
G-Sync is a licensed adaptive synchronization technology developed by an American technology company Nvidia. It was first released in 2013 with the main goal enhancing your gaming experience by eliminating screen tearing, reducing stuttering, and input lag.
If a manufacturer wants to implement G-Sync into their monitors, they have to purchase specialized hardware modules and pay extra fees to Nvidia. Because of this, G-Sync monitors are significantly more expensive than FreeSync ones. Nvidia has received quite a lot of criticism regarding their monetization over their technology, because similar technologies exist that are free such as AMD's FreeSync. In reality, G-Sync monitors are more advanced than their counterparts, which means that they put more effort into the research. Therefore it is reasonable for them to charge manufacturers extra to compensate for their effort and also to allow them to allocate funds for further advancements in the G-Sync technology.
To fight the criticism, in 2019, Nvidia released G-Sync compatible monitors, which are monitors that are not using Nvidia's specialized hardware, but went through heavy testing to ensure that you as the customer would have excellent gaming experience. These tests ensure that the monitor has a functioning variable refresh rate and is capable of displaying games without any game stuttering or screen tearing.
AMD's FreeSync
FreeSync is an adaptive synchronization technology developed by an American semiconductor company Advanced Micro Devices (AMD). It was first announced in 2014 and released the following year to fight back against Nvidia's G-Sync.
The primary function of the technology is the same as of Nvidia's G-Sync, to improve your gaming pleasure by eliminating screen tearing, game stuttering caused by misaligned frames, and by reducing input lag.
Unlike Nvidia, AMD does not force manufacturers to buy specialized OEM modules and pay extra fees. Because of this, FreeSync monitors are noticeably cheaper. Since AMD does not receive any money for producing this technology, it does not get back any funds to further research and advance their technology. Therefore, making it fall behind Nvidia's G-Sync, which does charge its manufacturers and, in return, can put back that money into more research.
Because of the lack of regulations, FreeSync technology in some monitors might work only in specific FPS ranges, even when the monitor can exceed the frame refresh rate.
Recently, in 2020 Consumer Electronics Show (CES), AMD announced its new FreeSync Premium and FreeSync Premium Pro tiers. The FreeSync Premium aims to set a baseline for the FreeSync technology with mandatory low framerate compensation (LFC) and at least 120hz refresh rate at FHD resolution. And the FreeSync Premium Pro, previously known as AMD Radeon FreeSync 2 HDR, will be competing against G-Sync by featuring many video enhancers such as highly accurate luminance, extensive color gamut testing, and low latency with SDR or HDR. Unfortunately, the FreeSync Premium Pro only works for a limited amount of games.

Which one is better?
As long as anyone can remember, AMD has always produced budget-friendly graphics cards and processors, while both Nvidia and Intel manufactured much better and much more expensive GPUs and CPUs. This trend lasted until the release of AMD's 3rd generation Ryzen CPU's, which proved to be very competitive towards Intel's latest processors.
But when it comes to monitors, Nvidia's G-Sync wipes out AMD's FreeSync out of this world. On AMD's website, they claim that their technology is superior to Nvidia's G-Sync in two ways. One of them is that there are no licensing fees to display OEMs for adoption, and the other being that there are no expensive or proprietary hardware modules. In both instances, the superiority comes at reduced prices, rather than the actual advancements in the technology.
On the other hand, Nvidia's G-Sync technology offers much more technological advancements, but at a higher price. Monitors with G-Sync technology are often much more expensive, but not for no reason. The newest achievement coming from Nvidia is its 360Hz monitors, which might not sound much, but is still a decent upgrade from the previous highest of 240Hz monitor that was released back in 2013. They also have remarkably fast response times going down to 0.5ms. Overall, when buying a G-Sync monitor, you can feel confident that the built quality and the functioning of a monitor will not be disappointing.
So which one is better for you? Well, it depends. If money is not a problem for you, G-Sync would be the way to go. On the other hand, if you're running on a tight budget, it would be wiser to spend more money on your gaming rig rather than a more expensive monitor, making FreeSync monitor a great choice.
In the end, you get what you pay for. Both monitors will prevent screen tearing, provide fast response times, and high refresh rates. G-Sync is more advanced, but also more expensive. It comes to you and your current situation to make the choice on which one to buy.
Author choices
Having discussed the two adaptive synchronization technologies, let us help you to decide what monitor would best suit you. Here is the list of the best deals on gaming monitors that we have found:
Best
FreeSync

monitors
MSI Optix MAG271R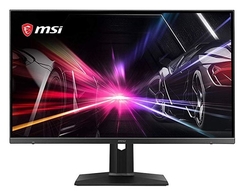 MSI's Optix MAG271R is a great monitor for an excellent price. It comes from a very reputable brand, MSI, so you can feel confident that this monitor is for serious gaming. It implements FreeSync technology, has 27" display, 1ms response time, adjustable base, and charming lighting in the back.
Check Price
Pros:
165Hz refresh rate

Eye appealing

Adjustable base
Cons:
None
Sceptre C275B-144RN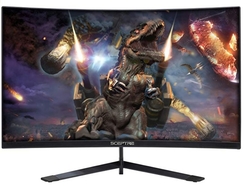 Sceptre's C275B-144RN is an excellent monitor for someone who wants to enjoy smooth 144Hz gameplay but doesn't want to pay a fortune. It is exceptionally well priced, has built-in speakers, edge-less screen, and implements FreeSync technology.
Check Price
Pros:
Great price

Built-in speakers
Cons:
Not very eye appealing.
Best
G-Sync

monitors
ROG Swift PG278QR
ROG's Swift PG278QR is a monitor created for pressing gamers. Like many other G-Sync monitors, it is way more expensive than any of FreeSync monitors. It offers a 165Hz refresh rate, 1ms response time, adjustable base, and eye-care technologies. If you want a G-Sync monitor, this is the one.
Check Price
Pros:
165Hz refresh rate

Eye appealing

Eye care technology
Cons:
Very expensive
Acer Predator XB271HU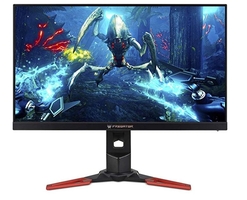 Acer's Predator XB271HU is another excellent choice for people who are looking to buy a monitor with G-Sync technology. It is expensive, but it still has 4ms response time, and although there might be a reason behind it and it doesn't impact gaming that much, it is still a dissapointment when a 200 dollar monitor has a better response time.
Check Price
Pros:
165Hz OC refresh rate

Eye appealing

Built-in speakers
Cons:
Expensive
Best
budget

monitors
Acer KG241Q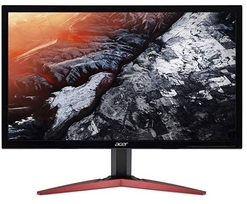 Acer's KG241Q is an excellent option for people who are running on a low budget. While cheap and small, it offers true gaming monitor capabilities, including a 144Hz refresh rate and 1ms response time.
Check Price
Pros:
Great price

144Hz reresh rate
Cons:
23.6 inch display
Asus VG278Q
Asus's VG278Q is the middle ground between budgeting and a G-Sync monitor. It is G-Sync compatible, which means it does not have Nvidia's specialized hardware, but went through heavy testing to ensure that it is a high-quality monitor.
Check Price
Pros:
G-Sync compatible

Great price
Cons:
None
The
best

monitor in the

world
ROG Swift PG27UQ
ROG's Swift PG27UQ is an overkill gaming monitor that not a lot of gamers can afford. As expected, it will include all of the features that a gaming monitor has to offer with the addition of technologies that most gamers have never heard, such as the quantum dot IPS display.
Check Price
Pros:
G-Sync technology

4K Resolution

Charming RGB lighting
Cons:
Very expensive